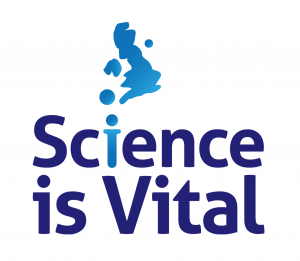 And so the
rally
, the
lobby of the British Parliament
, the
Petition
(with over 33,000 signatures at the time of
delivery to 10 Downing Street
) and most importantly, the news that science funding in the UK will not be cut by the threatened 25%, but is instead frozen for the next few years, have come and gone. A success by any measure.
Large amounts of media coverage, reports from those "on the ground", and associated commentary, are nicely aggregated on the
Science Is Vital
website,
right here
.
And, those of you who were were able to sign the petition received a nice thank-you note from Science Is Vital Commander-in-Chief
Dr. Jennifer Rohn
, the text of which I will quote here for the benefit of the rest of us (the petition being sensibly limited to signatories resident in the UK). Thanks to
Aled
for passing this along - he signed it, have you? There's still time.
(Any errors in the following are my fault as a result of stripping truly mammoth amounts of html formatting out of the original email. Honestly, I've never seen so many <span> tags in my life.)
Dear Supporters,
The Chancellor revealed the results of the government's Spending Review yesterday. The science research budget has been frozen. This means that we will be spending 10% less on research in 2014/15 than we are today. It could have been far, far worse.
We're encouraged that the government has listened to the economic arguments showing that science is vital. It is a difficult time for this country, but protecting science will result in a better future for the UK.
There is no controlled experiment, a world in which the Science Is Vital campaign did not exist, a world where nobody raised their voices to defend UK science. And we know that some people in high places believed in the economic importance of science independently of us. But I think that we can all take at least some credit for this result. Our central message was powerful, and it seems to have been heard and heeded:
33,000 names on a signature delivered to Downing Street, gathered in only 3 weeks

2000+ (police estimate) scientists and their supporters demonstrating outside the Treasury

100s of articles, radio interviews and TV films in national and international media

a 45-minute meeting with Science Minister David Willetts to discuss the issues

a question raised in Prime Minister's Questions

a packed lobby in Parliament, including Prof. Adrian Smith, sent by Vince Cable to report back

110 MPs from all main parties signing our Early Day Motion
All of you had a part to play in these achievements. I would like to extend my heartfelt thanks, especially those who put in a little extra: the marshals and first-aiders at the rally, those of you who volunteered their time to design posters and artwork, to make placards, to nominate slogans, who donated the videos, photos and comments to enhance our website, or sent us links to important pieces of evidence for the economic case; who travelled from far away to attend the rally or the lobby; who donated money to the cause; who helped spread the word by emailing their departments or deans or student unions, or took the time to explain the issues to friends and neighbours who then went on to sign the petition or write to their MPs – the list goes on. It just goes to show how powerful people can be when many act as one.
UK science is still not entirely safe. While we have made cuts to science, our competitors in the US and Germany are increasing their investment – there is still a risk of a brain drain. Reforms to university funding, severe pressure on capital projects and the detail of the allocation of the budget are all still to come. The UK science community must weather this.
Science is Vital. As a campaign we're going to keep on fighting for the interests of science through these tough times of cuts and change. With your permission we'll occasionally email you with updates and requests for help. But for now on behalf of the entire
Science Is Vital
team: thank you once again for your support, and for helping to make a difference.
With best wishes,
Jenny Rohn
If you'd like to contact
Science Is Vital
, contact them here:
Science Is Vital Campaign
c/o CaSE, Gordon House
29 Gordon Square
London, England WC1H 0PP
And one more thing... all that saving of Science funding ain't cheap, so if you'd like to contribute, I'm sure the good folks at the
Campaign for Science and Engineering
(CaSE) would love to hear from you:
Thank you to everyone who contributed to cover our campaign and rally costs. The response has been great.
Please click here if you would like to support CaSE (Campaign for Science and Engineering)
.
All of the above is Copyright © 2010 Science Is Vital Campaign, All rights reserved. Technically, I didn't ask for permission, but if the SciVit folks are upset I'm sure they'll let me know.
Cross-posted at
Life Science Tools of the Trade
.